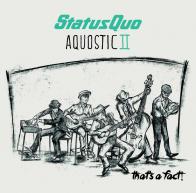 Band members: Francis Rossi, Andy Bown, John Edwards, Leon Cave
Rick Parfitt will not appearing at the 2016 Aquostic shows!
Special Guest Musicians: Geraint Watkins - Accordion, Piano, Martin Ditcham - Percussions, Freddie Edwards - guitars, Amy Smith - female vocals, Hannah Rickard - female vocals, country violin,
Strings: Lucy Wilkins - Violin, Howard Gott - Violin, Natalia Bonner - Violin, Alison Dods - Violin, Sophie Sirota - Viola, Sarah Wilson - Cello.
Main Setlist 2016: Pictures Of Matchstick Men, Paper Plane, Caroline, What You're Proposing, Claudie, That's A Fact, Hold You Back, Rolling Home, Down Down, Whatever You Want, Rockin' All Over The World, Burning Bridges,

Tour Crew: Glen Smith (Tour Manager), Lyane Ngan (Band Personal Assistant), Ewan Cameron (Lightning Director), Andy May (FOH Sound Engineer), Tim Franklin (Monitor Engineer), Lloyd Gilbert (Guitar Tech), Andy Tomkins (Keyboard / Bass Tech), Lance Miles (Drum Tech), Danny Stead (Strings Engineer), Musicial Director: Mike Paxman. Merchandiser: Global Merchandising Services Ltd. Management: DurocMedia Ltd. Manager: Simon Porter.
Tour Notes: Due to ongoing medical treatment, Rick Parfitt are not appearing at either Union Chapel or BBC Hyde Park. Aquostic Live will be the future for the band after the Last Night of the Electric Tour 2016.
x
2016
09/09/ UK, London - The Union Chapel | 60' min. AUD Quality: 3+
11/09/ UK, London - Hyde Park | 46' min. FM Quality: 5| 46' min. FM Quality: 5

103' min. AUD Quality: 3+
2017
20/06/ UK, Inverness - Leisure Center
21/06/ UK, York - Barbican
25/06/ UK, Norwich - The Nick Rayns LCR
29/06/ SPAIN, Barcelona - Gran Teatre del Liceu
01/07/ UK, London - Royal Albert Hall
17/11/ BELGIUM, Antwerpen - Stadsschouwburg
18/11/ GERMANY, Regensburg - Donau Arena
21/11/ GERMANY, Bielefeld - Stadthalle
22/11/ GERMANY, Hannover - Kuppelsaal
23/11/ HOLLAND, Tilburg - Poppodium 013
11/12/ GERMANY, Berlin - Friedrichstadtpalast
12/12/ GERMANY, Frankfurt - Jahrhunderthalle
13/12/ GERMANY, Baden Baden - Festspielhaus
15/12/ GERMANY, Stuttgart - Liederhalle
16/12/ GERMANY, Halle an der Saale - Friedrich Händel Halle
18/12/ GERMANY, Düsseldorf - Mitsubishi Electric Halle
19/12/ GERMANY, Mehr! Theater
21/12/ GERMANY, Nürnberg - Meistersingerhalle
*FACTS FROM THE ROAD:
09.09.2016 - On Friday 9th September the band played a exclusive warm up show at the London Union Chapel. The Union Chapel is a beautiful venue, holding around 900 fans. Due to ongoing medical treatment, Rick Parfitt will not be appearing at either Union Chapel or the Hyde Park BBC Radio 2 gig. After their 50 Minutes set, the full band played the two new tracks "That's a Fact" and "Hold You Back" from Aquostic 2 once again for recording two videos for promotional use with a live atmosphere.
11.09.2016 - On Sunday 11th September the band played again at the massive London Hyde Park show - BBC Radio 2 - a festival in a day . This time with the full Aquostic sixteen piece line-up. Quo will be on stage at 17.55 h to 18.45 h. Also appearing on the day: Andreya Triana, Jamie Lawson, Travis, LeAnn Rimes, Gregory Porter, Madness and Elton John. BBC Radio 2 will be broadcast the hole day live from Hyde Park. You'll also be able to watch the event live by pressing the Red Button from any TV channel in the UK.